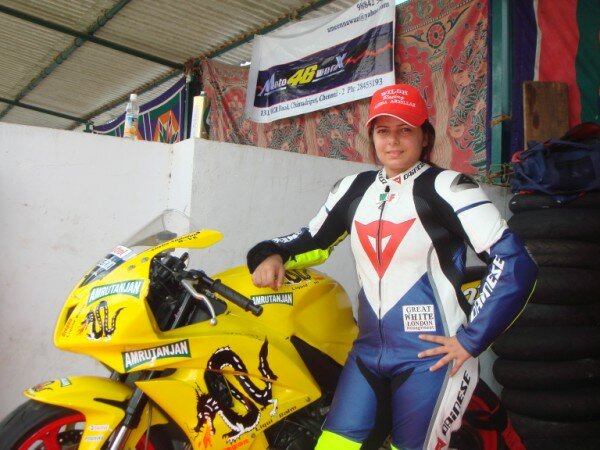 India's only woman super bike racer
Alisha Abdullah

has the unique distinction of being India's only woman super bike racer. Well it is no surprise because racing runs in her genes. Her father RA Abdullah was himself a famous bike racer and a seven-time national champion.

Alisha has been fascinated by racing since she was a kid. As a nine-year-old, Alisha was drawn to go-karting. She was winning go-karting races by the time she was eleven. When she was just 13-years-old, she won the MRF National Go-Karting Championship and the Best Novice Award in the National level Formula Car Racing in the open class .

Alisha then moved on to formula car racing and managed to come fifth in the JK Tyre National Championship, 2004. She made the switch from four wheels to bikes in the same year.

Talking about the change Alisha's father who noted, "The fact is formula car racing can get very expensive. Motorbike racing is easier to manage financially, and moreover, I know what is what in motorbike racing and I can guide her. So I asked Alisha to try bike racing."



Alisha regards her father as a role model and hero. "I have never seen anybody ride better," is her take. Her idol in India is Karun Chandok whom she says is very strong and can beat anyone.


Inevitably, eyebrows are raced when she zooms past men in a flash but this only makes the whole scenario more inviting for Alisha as she opines "Speed thrills me. They say girls generally hate racing, but I love it and that's why I'm here." She also goes on to add "Whenever I win a Championship in he open class, the exclamatory remarks that I get to hear from the men makes me really proud."

Alisha and racing are just inseparable. She is synonymous with speed, guts and glory.
Alisha Abdullah is a car racing daredevil. Eyebrows were raised when the petite 21-year-old from Chennai participated as sole Indian female driver in the Polo R Cup competing with a batch of 19 male car racers. With a rating of No 6 at the Volkswagen Polo R Cup championship, Alisha has the unique distinction of being India's only woman super bike racer.

Her father RA Abdullah was a famous bike racer and a seven-time national champion, so when at the age of nine Alisha showed interest in bikes, it was no surprise. Racing, one can say runs in her genes. "I was always into cars, bikes and fitness. As a kid, I used to play with toy cars and I still have a few of them," smiles the charming lass.
Initially racing at Go Karting events, she won the MRF National Go Karting Championship and the Best Novice award in the national level Formula car racing in the open class. Her switch to car racing came after an accident in the JK Tyre National Championship Super Bikes Class, which put an end to her dream of being an international bike racer. She had to give up bike racing but she took up formula car racing in 2004, winning fifth place in the JK Tyre National Championship.
Despite a recurring pain in her right shoulder, she kept at it and is happy with an option she thinks she should've chosen much earlier. "Car racing is so much fun, I regret I didn't get a chance to realise its full potential. But now, I seriously want to make a career in car racing, even though it's much more expensive than bike racing," says the Sociology graduate who also has a masters in Human Resources from Liba College, Chennai.
The only child of her parents, Wendy and Abdullah, Alisha is happy her parents approve of her career choice. Alisha's mother is her cheerleader and watches all her races, while her father is not just her inspiration, but also her coach.
On the track, Alisha gives tough competition to the male competitors and a clash of egos is inevitable. "Off the track, I interact with my fellow drivers, but things change on the track. Their egos take over and they let professionalism go to the dogs," says the racer recalling an incident in Chennai last month, when her vehicle was damaged in a minor crash, bumping her from the fifth position to ninth.
While at college, Alisha recalls being the centre of attention because of her driving skills. "My friends were thrilled to have a race car driver in their midst. But I never really thought it was a big thing. I believe that each person has a talent of their own. Racing is my passion." Coerced by her friends, Alisha obliges by taking them for a spin, or even doing a few simple stunts that leave her friends petrified.
Alisha is of the opinion that the major pitfalls that prevent women from racing are finance and society's disapproval. One season of racing like the Volkswagen motor sport event could set a racer back by anything between seven to eight lakh rupees.
"I wish more young girls would take this sport seriously. If you have a passion for the sport and love for cars, nothing can stop you. As a girl, I competed with young boys in bike races. You have to have the guts and patience. Until you lose, you won't win. I don't dream of things that are impossible, I dream of what I can attain, that's why I am here." However, her dream to own the Audi TT Coupe two-seater still remains. Till then, she continues to use the family cars – a Skoda Superb which is her favourite, a Hyundai i20 and a Chevrolet Captiva.
Had Alisha not been a racer, she would've been a tennis star like Sania Mirza, she reveals. "I love tennis and whenever I am free, I either go to the gym or play tennis. I am also a big foodie and love cooking," says Alisha, whose favourite preparation is Parsley rice with Chilli Chicken. She also loves baking cakes and is an expert at making chocolate fudge.
So the big question. Will she be at the F1 races in Delhi this month? "I have no idea but I do hope something works out for me." On that note, she excitedly talks about meeting F1 champion driver Lewis Hamilton when he was in Chennai for an event. "Hamilton is an extremely nice person and I am in touch with him as his brother is participating in the Sirocco Cup in Germany this year." So what tips did the champion driver give her? "He told me always to keep my head cool on the race track. But how can you be cool on a race track? The pressure is always mounting every second. In fact he remarked that he would be angry if a girl wins a race in which he is driving, so you see what I am up against," says Alisha with a tomboyish grin.
Awards
National Road Racing Championship UCAL
Awarded on : November 2008
Group A stroke up to 750 cc Novice Round 4, THIRD PLACE
Rotary's Young Achiever Award
Awarded on : September 2008
Honoured with Rotary's Young Achiever Award. The Rotary Club of Madras Northwest presented the award applauding her trail-blazing achievements in car and bike racing.
National Road Racing Championship UCAL
Group D4 stroke 80 cc to 110 cc Novice Round 5th Round, THIRD PLACE
National Road Racing Championship UCAL
Group D4 stroke 80 cc to 110 cc Novice Round 4th Round, THIRD PLACE
National Road Racing Championship UCAL
Group D4 stroke 80 cc to 110 cc Novice 3rd Round, SECOND PLACE
Kadet – Indian National Karting Championship
Overall Championship novice , all FIRST PLACE in the first 5 races out of 6
Source : alishaabdullah.com