Justice Fakir Muhammad Ibrahim Kalifulla
The learned Judge is the son of Late Thiru. Justice M. Fakkir Mohamed and was born on 23.07.1951. He hails from Karaikudi, Sivagangai District, Tamil Nadu and was enrolled as an Advocate on 20.08.1975. He was an active Labour Law Practitioner as Partner of the Lawyer's Firm called M/s. T.S. Gopalan & Co., and appearned for various Public and Private Sector Undertakings, Nationalised and Scheduled Banks. He was the Standing Counsel for the Tamil Nadu Electricity Board. On 02.03.2000, His Lordship was appointed as Permanent Judge of the Madras High Court.
His transfer was recommended by the Supreme Court Collegium in October-November last year. The Collegium is understood to have taken the decision to transfer Justice Ibrahim as a judge of the Jammu and Kashmir High Court so that he may later take over as Chief Justice J&K High Court after the retirement of the incumbent Chief Justice Aftab Hussain Saikia in April 2011.
Earlier, the collegium wanted to transfer Chief Justice of the Andhra Pradesh High Court Nisar Ahmad Kakru, who hails from J&K, as Chief Justice of the Jammu and Kashmir High Court. The decision was, however, reviewed following the intervention by the central government, which did not want to disturb the present transfer policy that envisages the Chief Justice of a High Court must be from outside the state.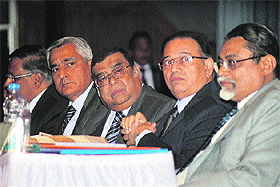 Jammu and Kashmir High Court Chief Justice F.M. Ibrahim Kalifulla was on 2nd April,2012 sworn in as Supreme Court judge. Chief Justice of India S.H. Kapadia administered the oath of office to him at a function in the presence of the Full Court and members of the Bar.
Second Tamilian
Justice Kalifulla, who hails from Tamil Nadu, will be the second judge to represent the Madras High Court in the Supreme Court after Justice P. Sathasivam.
In February 2011, Justice Kalifulla was transferred as judge of the Jammu and Kashmir High Court. He became its acting Chief Justice in April 2011 and regular Chief Justice in September 2011. He will have a tenure of little over four years in the Supreme Court, where the number of judges has now gone up to 26 as against the sanctioned strength of 31.
Source : greaterkashmir.com, hcmadras.tn.nic.in, thehindu.com