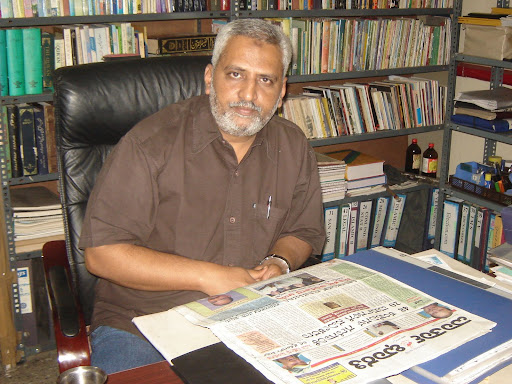 Born

02 April 1964
Ganjimutt, Dakshina Kannada district, Karnataka

Occupation

Writer, journalist

Nationality

India

Ethnicity

Beary

Citizenship

Indian

Alma mater

SDM Law College, Mangalore

Genres

Present

Notable work(s)

Towards Performing Da'wah (ISBN Code: EB050115)

Notable award(s)

Transperancy International Award 2009

Children

4 (1 son and 3 daughters
Abdussalam Puthige is currently the Editor-in-Chief of Varthabharathi, a Kannada daily that publishes from south Indian coastal city Mangalore and Karnataka's capital Bangalore. The first issue of Vartha Bharathi hit the news stands on 29 August 2003 from Mangalore. The Bangalore edition of this daily was launched on 29th Aug 2006 at N.G.O Hall, Bangalore.
Born in 1964 in Ganjimutt, a small village of Dakshina Kannada district of Southern Indian state Karnataka where his father Moulana Shafi was employed. He went to school in Bailur and Adi-Udupi where his father later resided temporarily. After completing his education, he took journalism as a profession and became an associate editor for a Mangalore based Kannada weekly.
During his career as journalist apart from reporting and writing his own aeticles,he translated many Urdu books into the Kannada language. He was one of the members of the committee that translated the Qur'an into Kannada - Qur'an Vyakhyana. He has authored a few books in Kannada and English. His most famous English work, Towards Performing Da'wah was published from The International Council for Islamic Information (ICII), UK.(ISBN Code: EB050115)
In 1996, Puthige set up a trust, Madhyama Kendra, which was intended to serve as a media centre to promote awareness among youth about the importance of the Kannada media, to train them to influence the media by writing letters to editors and contributing stories and news reports and, particularly, to counter mounting misreporting and negative stereotyping of minority communities. He is the founding director of this Mangalore-based Madhyama Kendra which, apart from a number of media-related activities also offers six month diploma courses in Kannada Journalism.
He was inspired by late Vaddarse Raghuram Shetty, who, sometime in the 1980s had launched a short-lived Kannada paper "Mungaru" that employed several Muslim, Dalit and Backward Caste journalists, in contrast to most other papers in the state which were, and still remain, heavily dominated by the minority 'high' caste Hindus. The paper had also sought to focus on news and stories related to these marginalised communities.Puthige was called as The Muslim Kannadiga by scholar and media-person Yoginder Sikand.
Puthige has conducted several studies and surveys that reveal the communal and caste based bias and prejudice found in various mainstream newspapers. Some of his achievements are:
Founder Director of Madhyama Kendra (Media Centre), Mangalore.

Founder Director of Institute for Media Studies, Mangalore.

Managing Trustee of Community Media Trust, Mangalore.

Editor In Chief of Vartha Bharathi Kannada Daily, Mangalore & Bangalore

Managing Director of Maadhyama Communications Ltd, Mangalore.

Honoured By Transparency International Award for upholding the basic values of journalism and spreading truth through Vartha Bharathi Kannada Daily.

Member of Executive Council, Human Development Initiative, New Delhi
Puthige has served as a chief resource person for many media organizations and journalism workshops across India. He has participated in important panel discussions of prominent TV channels about crucial subjects like politics, communalism, and terrorism.
Puthige is all set to publish his kannada translation of the holy Quran.
Source : Wikipedia